We were recently introduced to CBD and why it's important to understand the complementary ingredients in a CBD product (if you are unfamiliar with the concept of terpenes, have a quick read).
UPDATE: Party's over folks! No more CBD in HK, no more CBD beer in HK. We have left this article up, but you can no longer enjoy your hops & hemp in a HK beer.
---
There is a CBD beer party at Flower Years on December 10th. Read more here.
---
CBD and beer
Hops and hemp
When brewing beer, hops are added as a bittering and flavouring agent and can add impart floral, fruity or citrus flavours and aromas. Hops have also traditionally been added to beer owing to the antibacterial and antifungal properties of the terpene humulene, prolonging the life of a beer.
Hops are the flowers of the hop plant Humulus lupulus, a member of the Cannabaceae family of flowering plants.
– Wikipedia
Read that again! The Cannabaceae family includes Cannabis and Humulus – hops and hemp are family!
While this is a fantastic bit of trivia, does it suggest any reason why we should be drinking CBD beer?
It's possible that the different terpenes from hops may slightly modify how the added CBD isolate affects the human body. A 2003 study suggests that humulene may work with other terpenes and cannabinoids to help to fight tumour cells.
While we probably shouldn't pretend we drink CBD beer to fight potential tumours, we can objectively monitor how we feel when we do drink it and then make our own decisions (plus, these CBD beers are all delicious).
RELATED: November 2021 sees the opening of Unbothered, a CBD bar in Lan Kwai Fong
---
CBD beers in Hong Kong
Yardley Brothers
Yardley Brothers Lo/Hi Mango Cheesecake CBD Sour
The Lo/Hi Mango Cheesecake CBD Sour is a low-alcohol sour beer that drinks like a delicious mango soda – super refreshing – but it is neither overly sweet nor sour. Brand new from Yardley Brothers, you can find it at The Beer Shack on Lamma Island, The Ale Project in Mongkok and Once You Go Craft in Tai Kok Tsui (call ahead to make sure they haven't sold out).
Yardley Brothers use a CBD product called HydroBond, which is Open Book Extracts' (OBX) proprietary THC-free, water-soluble CBD solution. It's also available in Hong Kong as a CBD honey. This might be one of the very few times that Yardley Brothers have used an extract of any kind, which is an impressive stamp of approval for HydroBond. For instance, their recent Pandan Coconut Tropical Stout uses fresh juice that they themselves extract from copious amounts of fresh pandan leaves, and they have even done their own sourcing, foraging wild wampi on Lamma Island for their Wampi Foraged Sour.
Lo/Hi Mango Cheesecake CBD Sour is a particularly good beer to try for the CBD curious as it only contains 0.9% alcohol, with 22mg of CBD in a standard 330ml beer. Unfortunately, you can't buy it for home. It's only available on draught owing to the special yeast required for the low-alcohol content, which is particularly active. This CBD beer is proving very popular, which hopefully means it will be made on a regular basis.
Oh! CBD Beer
The Oh CBD Beer range available at HK Brewcraft
Oh CBD Beer was Hong Kong's very first CBD beer, making its debut in March 2020. The original beer was the Session IPA, but it also comes as a Session IPL (Indian pale lager) and occasional seasonal varieties (new is the 7% ABV Sunset IPA using experimental hops HBC 472). It's available at HK Brewcraft, the Hong Kong Whistle shop and Craftissimo. [EDIT: Things change fast. Best to contact Oh CBD Beer directly to enquire about current availability.]
Oh CBD Beer uses a CBD isolate from Hemp-Green. Each beer contains 20mg of CBD (about 60mg/L), and the Session range is relatively low alcohol at 3.5%.
Oh CBD founder Henry Leung says, "This project is not just about beer. It's a lifestyle combined with art, music and entertainment. And, of course, the FIRST and FINEST CBD beer." They are a truly Hong Kong creative team, comprised of co-founders and co-brewers Jason Li (DEADMAN Brewery) and Cheung Ka Ming (Black Kite Brewery) and artist Isabel O'Connor and even have their own music by Kendy Suen and DJ JFung.
The Session IPL was the first CBD beer we ever tried, and it was also our first Indian pale lager (a hopped lager). We can vouch for it being an extremely pleasant brew.
Edit April 2021: New beer! Oh!CBD has a Sake Imperial Brut Lager which is "a combination of the art of brewing sake and beer" and tastes like a #SakeBomb. Have you seen their AR labels in action??
Young Master
Young Master Brewery have three styles of CBD beer under a new wellness-inspired line of beverages, choosing a special hydrophilic LIFE CBD product following sensory panel assessment for mouthfeel and shelf stability. All three of the Young Master HEA CBD beers are hop forward, highlighting the synergy between hops and hemp. There is the Pale Ale, a lower-alcohol All-Day Session Ale and the recently released Double IPA Double CBD, which has a whopping 120mg/L of CBD (40mg in each can).
From Young Master's website:
"It's been a hell of a year, and you deserve a real break from it all. If our HEA line of CBD beers provided you some respite in months past, we are about to take things up a notch. As we wrap up 2020, let's all take a few moments to double the HEA. Infused with a double dose of CBD (@120 mg/L) on a potent 8.0% double IPA, this may be just the antidote for it all."
We plan to save this one for a particularly rough day… (oooh we did and it works a treat. Recommend having one in the fridge at all times).
[EDIT August 2021: NEW CBG pale ale from Young Master! With 60mg of LIFE CBG per litre (about 20mg per can), 5% ABV, relatively low bitterness and Young Master's superb consistency and quality control, we will be getting our hands on one of these ASAP!
Also new from Young Master is a sparkling CBD water, made in partnership with LIFE CBD. This is a super refreshing drink on it's own, and has 40mg of CBD in every can – we can vouch for it being a perfect Monday drink. Use it as a mixer in mocktails or cocktails to go to the next level!]
Monsters and Robots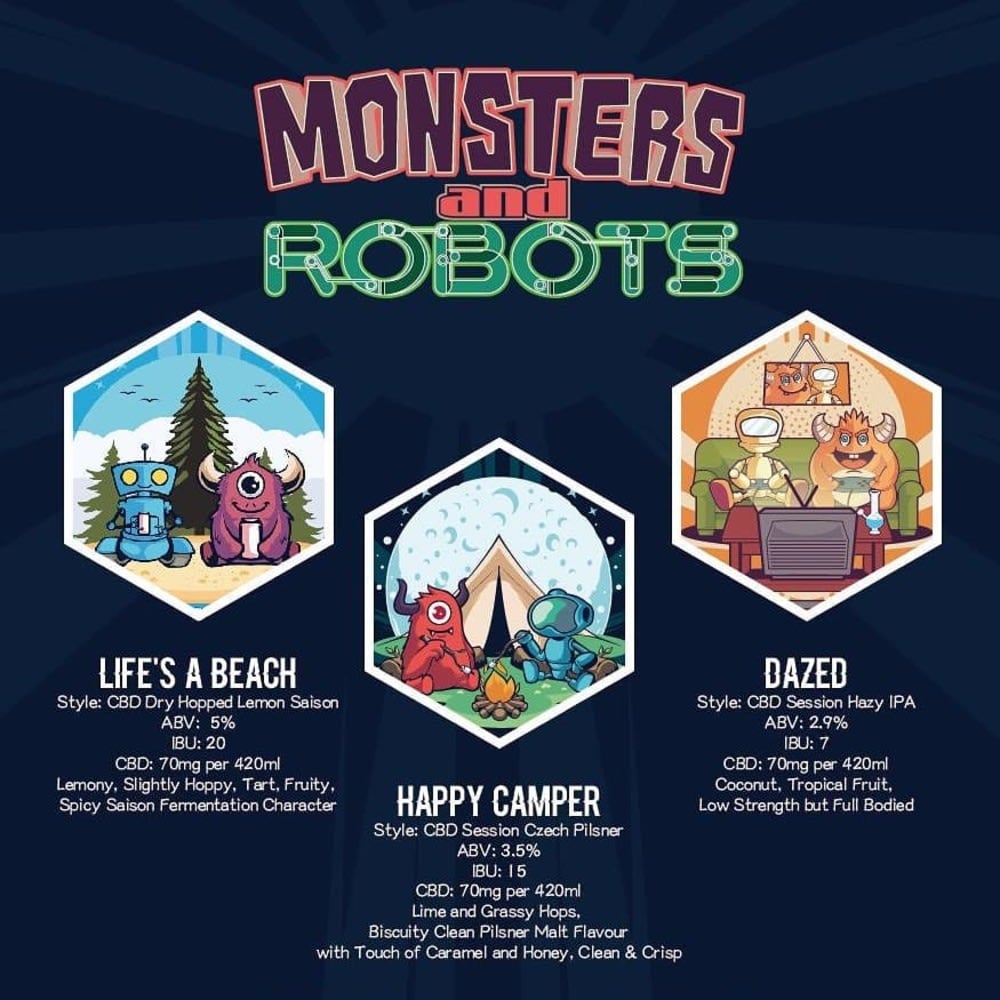 Monsters and Robots is the sister company to DEADMAN Brewery – and they are dedicated to CBD beers only. With 70mg of CBD per 420ml (which is about 55mg per can) these guys are not mucking around. We tried Dazed recently available at Craftissimo, and it has the familiar grassy aroma of a strongly hopped cbd beer, and a light mouthfeel. It's low alcohol too, which is great for trying CBD and trying to figure out if it's working for you.
Monsters and Robots are available in cans, taking advantage of the brand new canning machine at the DEADMAN brewery, whilst DEADMAN beers themselves are still in bottles.
New from them is a CBG Beer called 'Doomsday'. Teaming up with 852cbdhk, they have made Hong Kong's first beer with CBG – a precursor to CBD and THC. Doomsday is a Ginger Honey Dunkelwizen (a dark wheat beer) with 10mg of CBG and 50mg of CBD in each can. We were worried it would be too sweet, but it isn't. However one beer is enough – the flavour becomes a little overwhelming by the end of the beer. Get your hands on some at the DEADMAN Brewery tour.
Calma
Brilliantly named 'Calma', this newcomer is brewed at DEADMAN Brewery and has 25mg of CBD per bottle. It comes in a 'Suave' wheat beer at 4.8%ABV and an 'Intenso' IPA with high bitterness and 7%ABV.
We loved the Intenso IPA. With a honey grain malt and suitably strong citrus pine aroma, the flavour is BITTER but really well balanced. It is the first CBD beer we've had where the CBD component became secondary to just enjoying the beer itself.
Two new CBD beers, each with 50mg of high quality CBD are now available. Choose from the Altura Pilsner Lager or the Sereno Pale Ale (we love this one as a malt forward, easy drinking pale ale).
But if you have to try just one – look out for the Cielo radler which is brewed with Moonzen Brewery. It's made with a very light pale ale base, and is super refreshing with bright citrus and ginger along with low 3.5% alcohol and 50mg of CBD.
The CBD in Calma is a water soluble isolate from parent company Armara Glow, which is in the process of bringing a whole range of CBD drinks to Hong Kong. Making big waves in Hong Kong is a very interesting non-alcoholic hemp drink called Flora.
RELATED: Non-alcoholic beers and spirits to try in Hong Kong
Plant B
New on our radar is the PlantB CBD beer – 'Hong Kong's first CBD beer tailored for ladies. ' Using 20mg of CBD isolate from Life CBD per bottle and with a coconut and lime flavour, this beer has 4.5%ABV and quite a low bitterness of 33. Stockists can be found through their instagram page, and once we've tried it we will report back. In the meantime, if you know about where they are brewing please shoot us a message!
Hempover
Hempover is a beer project of the sommelier consultant company Somm's Philosophy with a body and mind wellness studio called Pause, Play & Forward. It is brewed by local brewery Tai Wai Beer, who specialise in tea + beer combinations.
Reeze, the owner of Somm's Philosophy wanted like to brew a beer that is fresh and low in bitterness, and so went for a Saison, which is a traditional ale from Belgium. It is low bitterness, reasonably low alcohol (ABV4.5%) and contains 20mg of CBD per bottle. Infused verbena and lemongrass adds to the hemp and terpene aroma. If we get to try we will update! Check this instagram post for locations.
Mak's Brewery
Mak's Brewery has a brand new CBG beer – with 25mg of CBG per can. You can pick it up from their website for HK$65 per bottle, and that's all we know for now!
Mak's also did a CBD beer for the Ho Lan Jeng collaboration, and you can try it right now on tap at HLJ!
RELATED: A Mak's Brewery taproom! Read brews news here
---
Other interesting things we found out about CBD
A native hop called Humulus kriya has been discovered in India, and it contains CBD. An American nutrition company is selling CBD derived from this hop – the first CBD product that is not derived from cannabis.
CBD is being produced by yeast in labs at University of California, Berkeley. Essentially, brewers' yeast is being fed THC and CBD precursors and is then genetically modified to produce one or the other, as well as novel cannabinoids not yet found in nature. Eventually, we may be able to directly brew CBD.
---
For more articles like this, like Foodie on Facebook or check out the other beer articles